The governance model in Denmark emphasizes the active engagement and contributions of government actors, civil society organizations, private businesses, and citizens within the broader framework of sustainable development governance. By embracing an inclusive approach that harnesses diverse expertise and resources, Denmark's governance model enhances the efficacy of its sustainable development initiatives. Presented herein is a table delineating the roles and responsibilities of diverse governmental entities in Denmark pertaining to the attainment of sustainable development goals?
Table 1. Roles and responsibilities of government actors.
Source: The Danish Government (2017), Denmark's implementation of the 2030 Agenda for Sustainable Development, Ministry of Finance, Copenhagen, Denmark, page 2.
While government actors undoubtedly play a crucial role in Denmark's pursuit of the 2030 Agenda for Sustainable Development, it is imperative to acknowledge the indispensable importance of other actors in this process. Non-governmental organizations, multinational companies, citizen movements, academia, and the media all assume distinct functions that contribute significantly to the advancement of sustainable development. The following highlights key actors within each stakeholder group.
Table 2. Roles and responsibilities of non-government actors.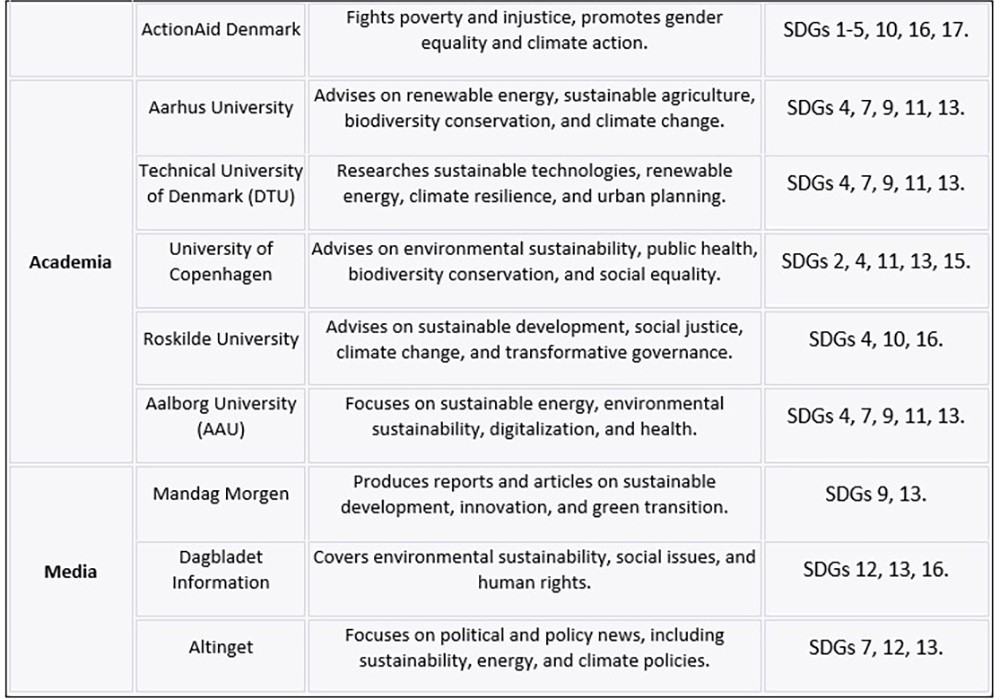 Source: The HLPF (2017), 2017 National Voluntary Reviews, UNGA, NYC, USA, page 41.
The diverse range of SDGs being addressed by both government and non-government actors in Denmark showcases a holistic approach to sustainable development. This approach recognizes that sustainable development is a complex and interconnected endeavour that cannot be achieved by focusing on a single issue or sector in isolation. The contributions of government actors show that different ministries have identified specific SDGs that align with their areas of responsibility and expertise. For example, the Ministry of Foreign Affairs covers a wide range of SDGs, reflecting Denmark's commitment to global development and cooperation. The Ministry of Finance focuses on goals related to poverty reduction and economic growth, while the Ministry of the Interior and Health emphasizes health and well-being. Non-government actors also play a crucial role in advancing the SDGs. Organizations like CARE Denmark, the Danish Refugee Council, and Plan International Denmark contribute to a broad range of SDGs, addressing issues such as poverty, education, gender equality, and social inclusion. Simultaneously, companies like Vestas Wind Systems, Maersk, and Novozymes contribute to sustainable business practices and environmental goals, such as renewable energy, responsible production, and climate action. Academia and the media play integral roles in the pursuit of sustainable development goals by actively contributing to knowledge generation, dissemination, and public engagement.
By addressing a wide range of SDGs, actors in Denmark are acknowledging the interdependencies among different aspects of sustainable development. They recognize that economic prosperity, social well-being, and environmental sustainability are closely intertwined and must be pursued simultaneously. For example, poverty reduction (SDG 1) cannot be achieved without addressing issues of education (SDG 4), gender equality (SDG 5), and decent work (SDG 8). Similarly, combating climate change (SDG 13) requires efforts in renewable energy (SDG 7), sustainable cities (SDG 11), and responsible consumption (SDG 12). Moreover, the diverse range of actors involved in addressing the SDGs reflects the understanding that sustainable development is a shared responsibility. Government actors, including ministries and agencies, play a crucial role in setting policies, implementing strategies, and mobilizing resources. Non-government actors, such as civil society organizations and companies, bring expertise, innovation, and grassroots perspectives to the table. The recognition of the holistic nature of sustainable development in Denmark's approach thus reflects a commitment to integrated decision-making and a long-term perspective. The ensuing figure illustrates the interconnectedness inherent in Denmark's governance model.
Figure 1. Denmark's governance model for achieving sustainability.
Source: Representation originated from the author's interpretation of research findings.
The presented figure illustrates a comprehensive governance model employed in Denmark to achieve the SDGs. The roles of government actors, including the Prime Minister's Office, the Parliament, and the Courts, are pivotal in coordinating efforts, formulating policies, establishing regulatory frameworks, and developing strategies for sustainability. Their actions are influenced by citizen movements, non-governmental organizations, and multinational companies, which shape government priorities through policy recommendations, public awareness initiatives, and educational campaigns focused on sustainability. Additionally, academic institutions generate valuable research that shapes sustainable development strategies, while media organizations play a significant role in public outreach and the dissemination of information related to the SDGs. By incorporating horizontal collaboration, the governance model encourages the exchange of knowledge, expertise, and resources among different actors. This collaborative approach recognizes that no single entity can address the complex and interconnected challenges of sustainable development in isolation. Instead, it calls for coordinated efforts and integrated approaches that transcend traditional sectoral boundaries.
Based on the findings displayed, it is evident that the Danish governance model for achieving sustainable development exemplifies the effectiveness of a multi-stakeholder, interconnected, and multi-level approach, fostering a collaborative and shared responsibility culture in addressing sustainability challenges. However, the effectiveness of the Danish governance model is contingent upon a sustained commitment to transparency, accountability, and continuous evaluation. These elements facilitate the monitoring of progress, learning from experiences, and making necessary adjustments to policies and strategies. By fostering a culture of learning and adaptive governance, Denmark can sustain its achievements and continually enhance its approaches to address emerging sustainability challenges.
References
1 The Danish Government (2017), Denmark's implementation of the 2030 Agenda for Sustainable Development, Ministry of Finance, Copenhagen, Denmark, page 2.
2 The HLPF (2017), 2017 National Voluntary Reviews, UNGA, NYC, USA, page 41.